For a while it looked like the Big Bear was going to win, but Buzzy eventually pulled through.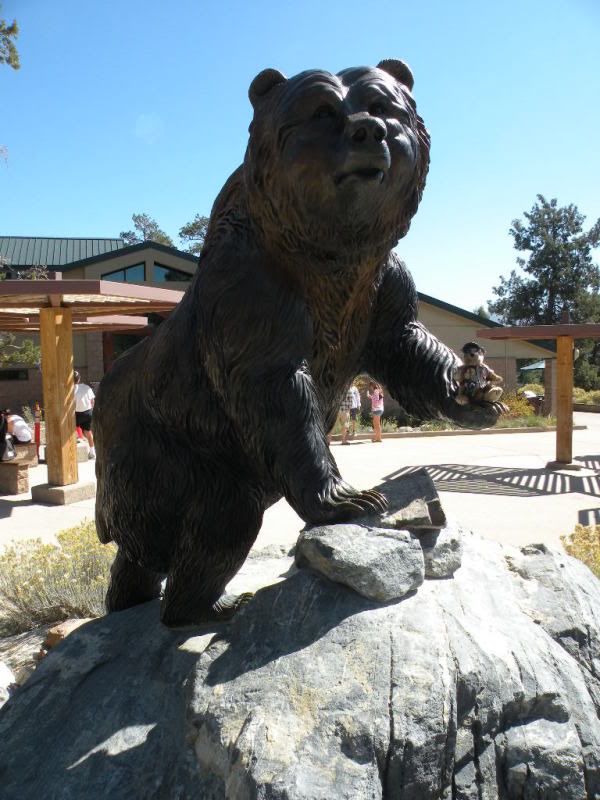 My flight into California was mercifully uneventful this time. I used the compensatory voucher from my last trip's disastrous flight to pay the fare for this flight. It was shortly before Halloween ("Like Christmas, but more werewolf", as Buzzy's Keeper said), and the guest room was decorated to match.



Buzzy's Keeper was exhausted because the temperature was near 100 degrees and the air conditioner was on the fritz. I still slept well though because there was a fan in my room.

Thursday was Disneyland day, and while Buzzy's Keeper was getting ready, I went with her husband to buy lunch, some shorts, and camera supplies. When we got back, BK pulled a banana out of a bag and asked me if I'd like a banana, which scared the heck out of me:

We eventually headed over to Downtown Disney for lunch at the Jazz Kitchen; my sandwich was a little too oily but otherwise everything was yummy. We took the monorail into the park and got to do a couple things I'd never done before: explore the Innoventions rotating city-of-tomorrow and ride the new-and-improved Star Tours (it has a randomizer built in for each of three scenes so you can now get a total of 36 different experiences). Then we got to see the taxidermy bunnies in during the train ride and check out Haunted Mansion, which was decorated in Nightmare Before Christmas theme. Pirates of the Carribean was closed, it sounded like they were adding even more Jack Sparrow to it, bleh. We rode Big Thunder Mountain Railroad, used fast passes for a second showing of Star Tours, and waited over an hour for Space Mountain, which was nicely dolled up for Halloween, inside and out. It was getting late, so we headed back to the apartment.

Friday was our trip to Big Bear! Big Bear is a tourist-friendly city surrounding a lake high up in the California mountains (San Bernadino area I think). The topography and flora are much different from the land closer to sea level where I usually visit. BK threatened to leave me by the side of the road if I dared to play any Schnuffel music on the way up, and she had a golden chance when we got stopped on the mountain road for about 15 minutes by a construction crew.



The mountain roads were twisty and scary, single lanes each way separated only by the double yellow lines, and slow drivers were expected to pull off on the side of the road so speedy people could pass them. But we made it safely to our Gray Squirrel Resort rent-a-cabin place and checked in.



We were really roughing it: the WiFi was spotty and the DVD player wouldn't play BluRays! Henry David Thoreau would have been heartbroken. Anyway, the animals decided to take up residence on the sofa. Feloni was in a bit of a bind: she turned into The Great and Powerful Trixie for the full moon, but it wore off while she was on the airplane in a different time zone, so she got stuck halfway as a witch-bunny.



Exquisite spelling job here, our cabin was apparently named after a member of the clergy who made fried potatoes.



The suburban-like street behind our cabin, where we took a little stroll.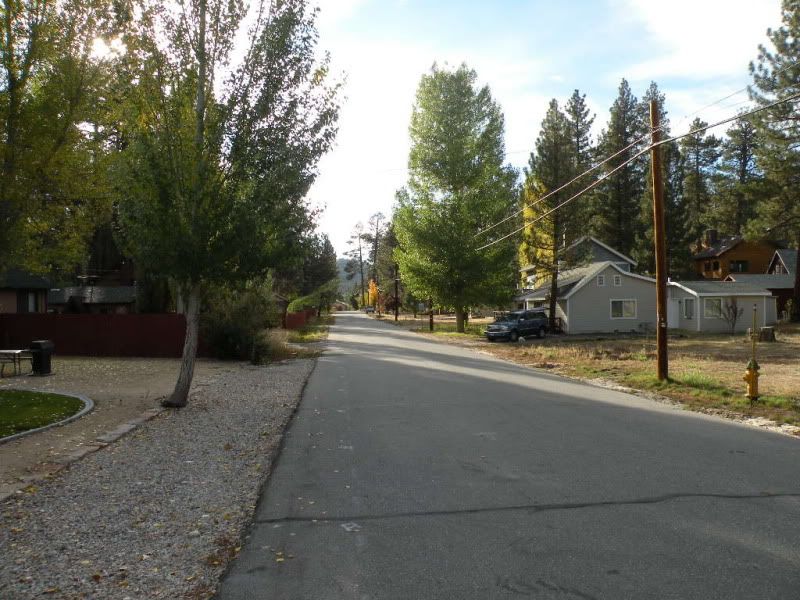 I think this was the first aspen I've ever seen in person.



We headed back once we got about a mile down the road.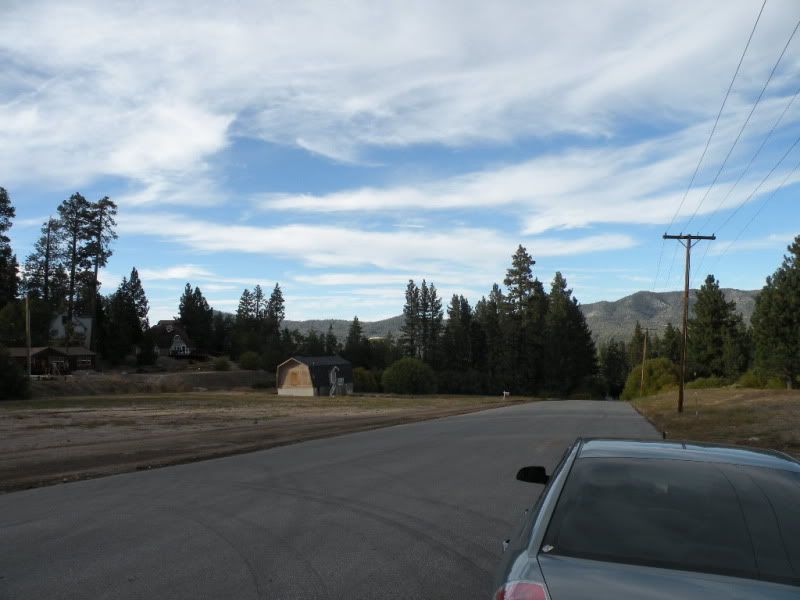 Next we headed to the touristy section of town, with the plaza shops. Most of the places sold knick-knacks, and there were some restaurants of varying quality.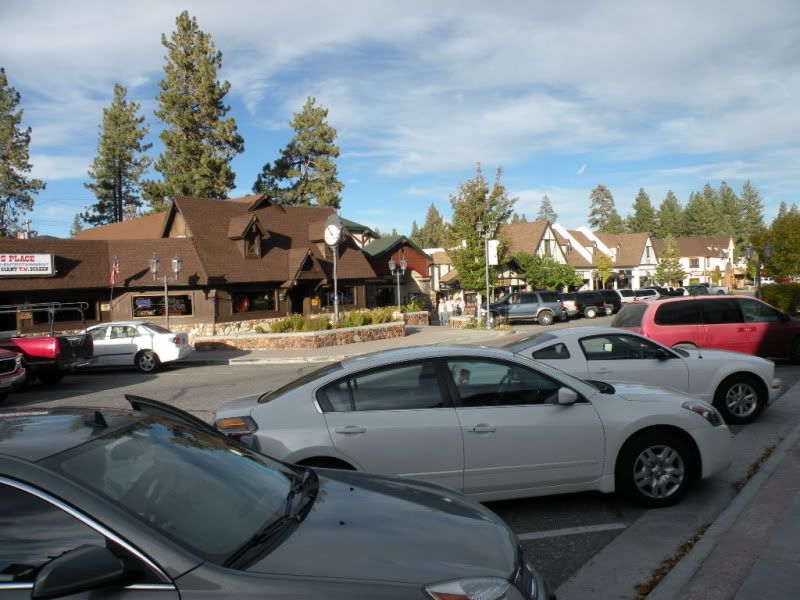 Autumn leaves in California! I never thought I'd see a sight like this. Big Bear is a lot more like Pennsylvania than the rest of California.



We found this sign as we wandered around. I may be featured prominently in the sign, but the loon taking my picture with her hand over the lens isn't exactly Einstein either. :p



Stupidiotic(TM) featured an assortment of moronic, cheesy merchandise of the kind often sold in comic books. I bought Buzzy a pair of Squirrel Underpants, which he needed badly. This is a sample of the decor of the shop.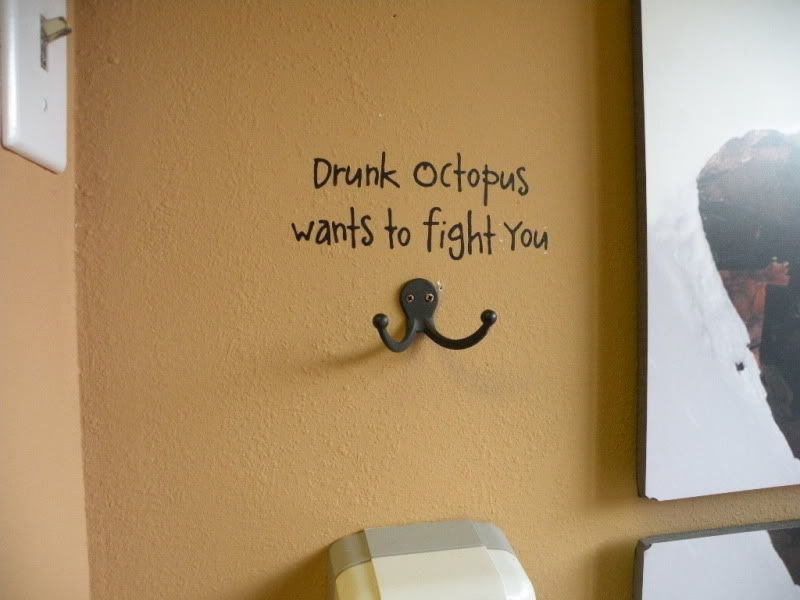 The locals recommended an Italian restaurant a few miles down the road named Maggio's. The pizza was quite tasty. We abandoned BK for half an hour in the restaurant while we went grocery shopping nearby, which was good for some laughs.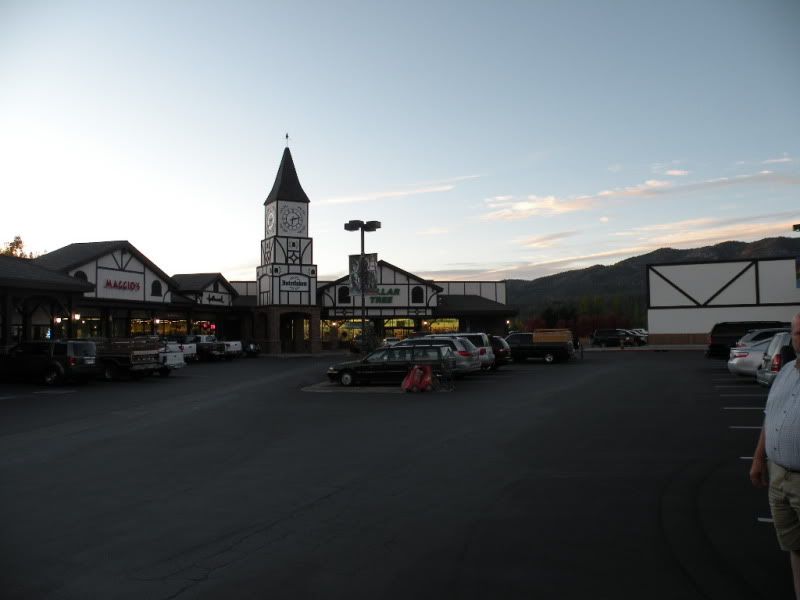 We headed back to the cabin and decided to watch a couple movies. They'd never seen "The Snowman" before, so we gave that a try. And they'd inexcusably never seen "Bambi II" before either, so I absoutely had to make them watch that. Poor BK got a brain-damaging dose of Thumper and his sisters from that one. We went outside and took a short walk to get a few shots of the moon.



The Saturday we decided to check out the Big Bear Discover Center and walk on a nature trail. We went to iHop for breakfast. I got a hot fudge sundae with a side of rock bacon.



Outside the Discovery Center, we finally got a close look at Big Bear Lake. It's very popular with boaters and fishermen.



The Discovery Center itself was like a miniature museum, focusing on the wildlife that live in the area. More taxidermy animals, yaaaaay!



We left Buzzy there, but somehow he found his way back.



Next up, we tackled the Interpretive Nature Trail. We all made sure to interpret it exactly the same way, so we wouldn't end up in different universes. There were about fifteen special features along the 1.5 mile trail, each marked with a bear-print sign.



Fallen logs were a common occurrence in the park. Some parasite from Asia had infected the local forests and killed a lot of certain kinds of trees.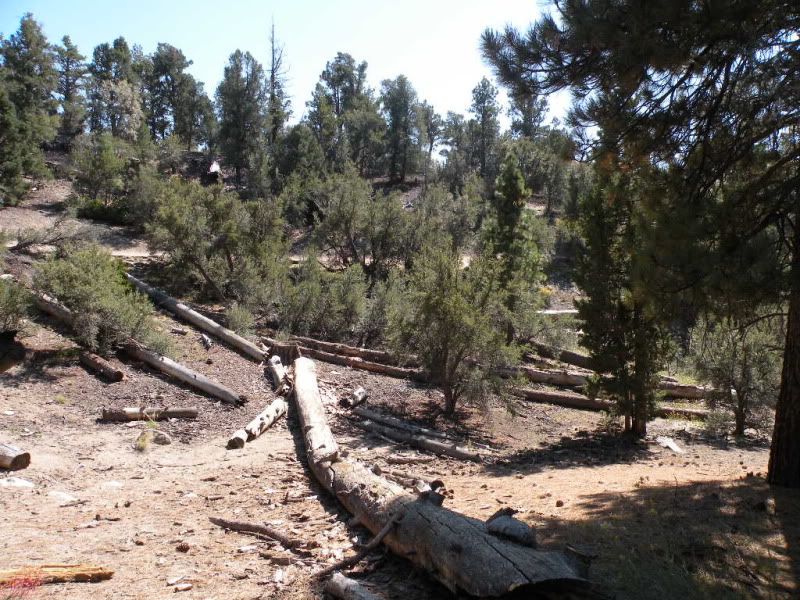 Boulders were frequent as well. This was the first big mound we encountered.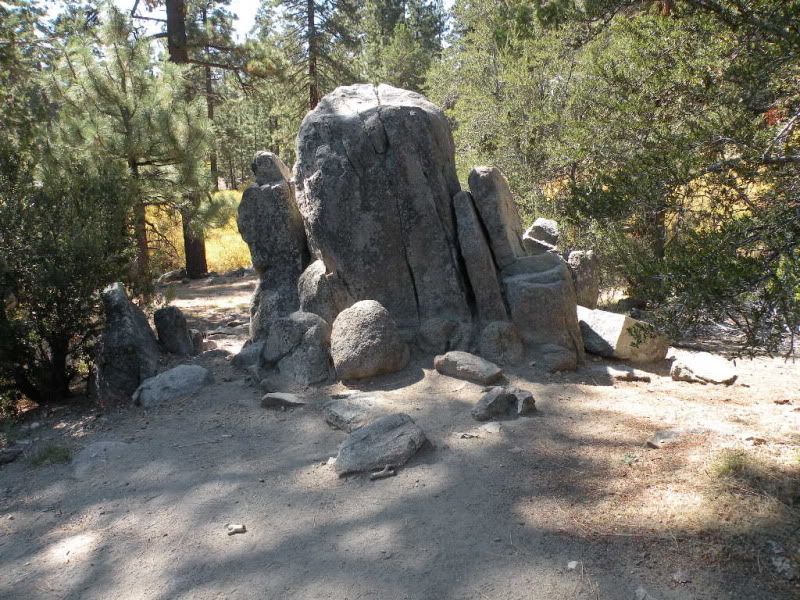 In the distance, we could see the highest mountain peak in California. I can't remember its name, but I think was in the San Bernadino mountain range.



We saw several well-camouflaged lizards, one chipmunk, and one squirrel along the trail. No rabbits, alas.



This old tree had been thoroughly ravaged by woodpeckers.



An unexpected trickle of a stream along the trail. This probably became a much more impressive stream during the rainy season.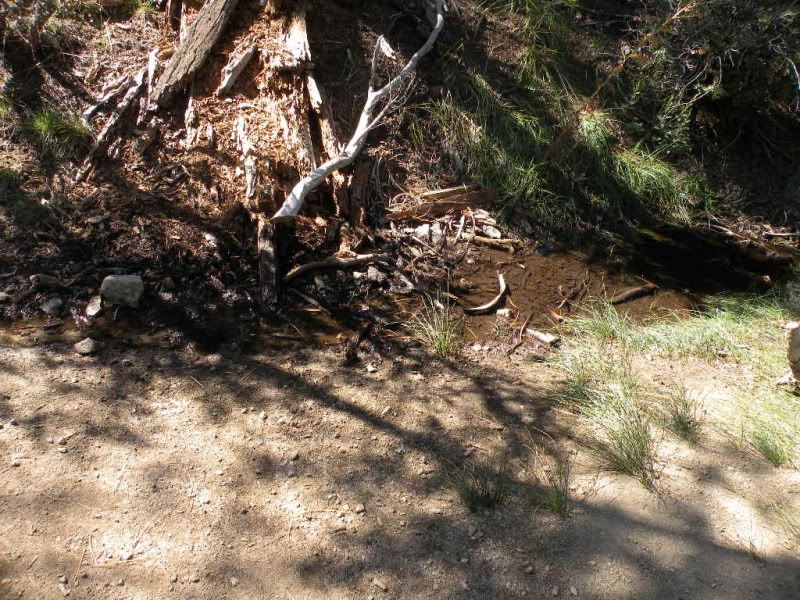 The pamphlet described this as a packrat's den. Must have been a pretty big packrat.



More boulders. These looked too dangerous to climb, otherwise we would have made Buzzy king of the hill.



We decided to close off our Big Bear adventures with a quick trip to the small local zoo, which again featured native species. I finally got to see a couple bunnies, even though I couldn't pet them.



They had a family of timber wolves, this guy was howling with the pack later on after dinnertime, when the park was closing.



I'm a raccooo-ooon.



Eagles in need of Rogaine.



Overweight mountain lion. I contributed a little to his exercise equipment fund.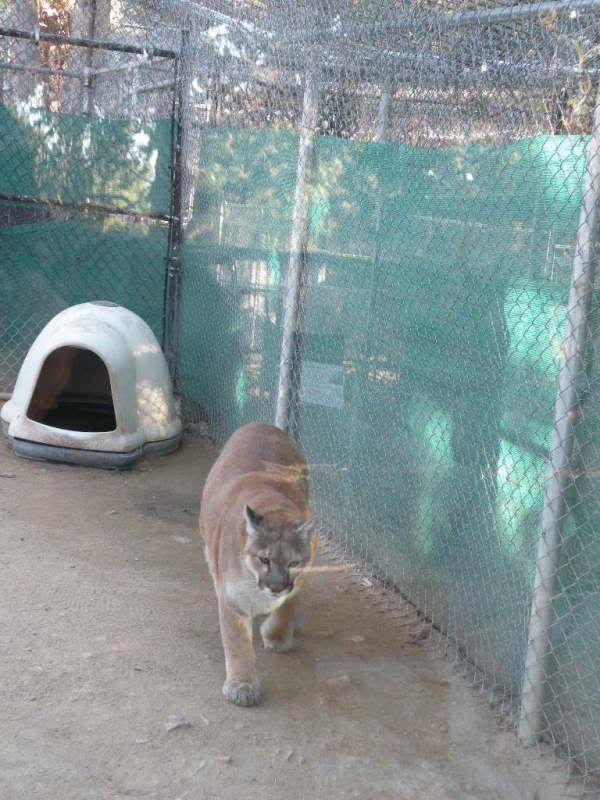 Coyotes! They ate all the roadrunners.



Bambi's mom was actually wounded and captured instead of being killed.



Raccoon inna buckit!



Foxy lady. I think it was a lady red fox, you can never be sure.



And I finally saw a big bear, glad it wasn't false advertising.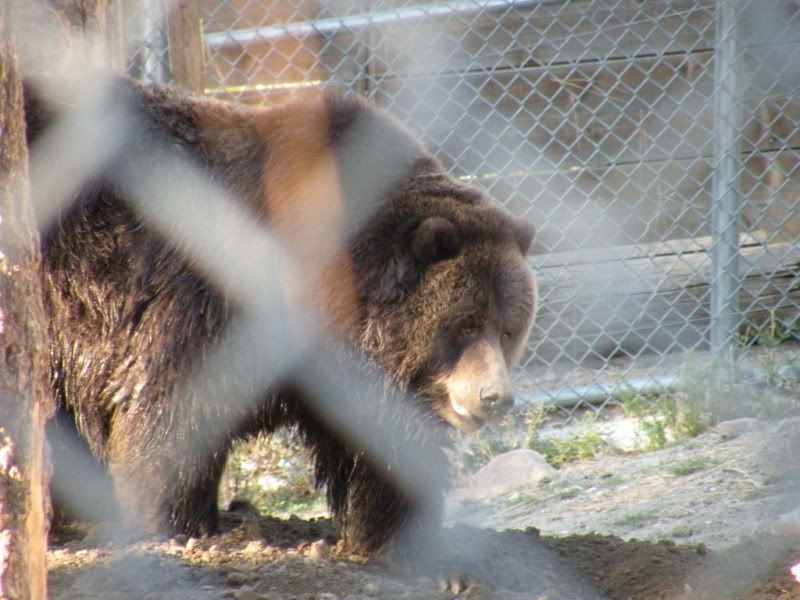 More foxes, I can't remember what brand these were.



After the zoo closed, we got some tea at Starbucks, had dinner at a decent Mexican restaurant, and drove back to the apartment. Sunday was our lazy day, we watched some TV, went to a nice German restaurant, and bothered each other a lot. I took an incriminating blackmail photo of Buzzy's Keeper, but she took a blackmail photo of me too, so those pictures will never see the light of day.