WARNING: Biological Icky Bits Ahead!
Guess what I found!?
I'm a larva!
This peculiar devil is the larval form of the American Carrion Beetle! How cool is that? (They feed on mushrooms and dead bugs as well as rotting meat, so I hasten to assure you that I do not, in fact, have dead bodies rotting in the woods. At least, to the best of my knowledge.)
Spring sprung and was promptly batted aside by summer, so it's hot and humid in the garden, and I am trying to stay ahead of the stiltgrass with copious amounts of mulch, because the flamethrower is questionable in a dry pine wood and would also take out all my nice jewelweed that has established so marvelously. Thinking of trying to fight it by transplanting in Virginia knotweed, which is an aggressive loon of a plant, but native, attractive, and host to a couple of butterfly species. (I have the variegated form, "Painter's Palette," which comes true from seed and boy, is there a lot of seed!)
Other than that, everything is blooming, the pollinators are out in force, I had a Zebra Swallowtail show up the other day (an uncommon butterfly in this neck of the woods!) and the pond is full of frogs and predacious diving beetles. On the downside, the weird cold/hot/cold/hot weather sent most of the spring veggies straight to bolting, so I got no daikons, some very sad beets, and the tomatoes are already starting to come in. Lost a bunch of peppers, too. Sigh. But the cucumbers and squash are happy, and I am holding out hope that the peas will produce a batch before the heat exhausts them. (A lot of local farmers just gave up and plowed the peas under. Can't blame 'em. This has been demented weather.)
Craw-Bob is still in residence. Haven't gotten a good look at him, but we've got the night vision cameras and just need to get them working with the house network. Mostly he's a flash of movement into the hole as I go by.
The Patio That Shall Not Be Named has been graveled, sanded, mortared, and now needs bricks. I'm traveling at the end of the week, but hold out hope of getting it done before June rolls around. (All productivity must be crammed into this month, because June is solid travel and July and August will be miserably hot.)
I had a bit of a wildlife mystery this morning. Was going out to feed the birds and found—there's no other way to say it—a pile of viscera in the middle of the path. Somebody had left their guts in a neat pile on the ground.
Being me, I of course immediately poked them with a stick. Yup. That's guts, all right.
Guts and….earthworms?
For whatever weird reason, there were a bunch of dead earthworms in the pile as well.
I wracked my brain—had something vomited and lost guts and earthworms together? Was this some kind of weird version of an owl pellet?—until I realized that the earthworms were from INSIDE the guts. Our deceased gut-owner had been out eating earthworms, and had quite a solid meal, then something jumped him, eviscerated him, and presumably ate the tasty bits. (I would have thought the viscera WERE tasty bits, but apparently somebody was picky.)
My guess is that the victim was a large frog, but I've got no idea what the killer was. I tossed the remains out of dog range—hopefully either Craw-Bob or the carrion beetles will find it and start the clean-up process.
So that's all the excitement around here at the moment. Guts! Bugs! Mulch! THRILLS! CHILLS! ETC!
Originally published at Squash's Garden. You can comment here or there.
http://www.dailycoyote.net/index.php/?p=4399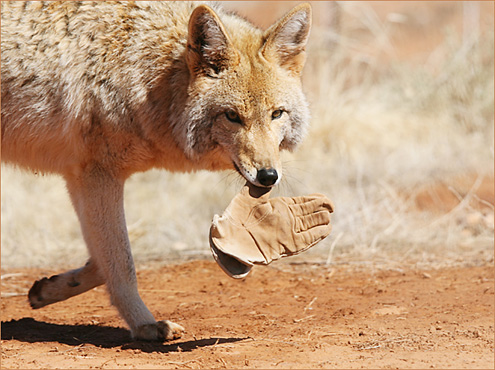 photo taken April 2013
The Colour of Money.

One major draw is the egalitarianism. Roughly half the identified characters are female, some of them in commanding positions. Honor may be the only one we feel like we know very well, but the rest aren't vacant either. They behave differently, most tho not all worthy of respect, none functioning as decoration (despite the cover artist's unduly photogenic face for Honor). And unlike some attempts at dignified heroines, Honor is decidedly not a man in a woman's body, as reflected in an important plot point, nor a Mary Sue like I feared.

As space operas go, OBS is pretty credible, at least to a science layman like me. It puts little focus on SF innovations; the main standout in this regard is Honor's pet treecat, an enviably empathic little ET who actually does serve as just a decoration, however welcome. It's set far enough in the future for human-populated planetary systems to war with each other, yet humans still act fully relatably (none improbably smart or stupid) and have recognizable names of various nationalities. The major struggles are hard and costly.

The one thing I don't like is the military aspect. As it happens, a forumite recently pointed out that spaceship battles are duller than you'd think, in any medium. That would explain why The Forever War had more engaging action scenes. In truth, OSB has a lot more talk than action, and I appreciate the talk better -- except when it gets bogged down in technical and naval jargon like a highbrow Star Trek fanfic. Generally, I favor the emotional, interpersonal human (and occasional alien) side over the rest. Still, it never bored me for long.



Now reading Shadowplay. Turns out I don't remember its predecessor Shadowmarch as well as I thought, and unlike other Tad Williams sequels, it starts with no synopsis. I have some catching up to do, but at least the heroes are on the move.
Continuing my questionable habit of starting a series with the earliest book, I made this my introduction to David Weber's "Honorverse," as fans call the Honor Harrington franchise setting. I have no idea how it compares to later entries, but I am willing to give those a try eventually. At least this one doesn't make amateurish choices like
http://www.dailycoyote.net/index.php/?p=4397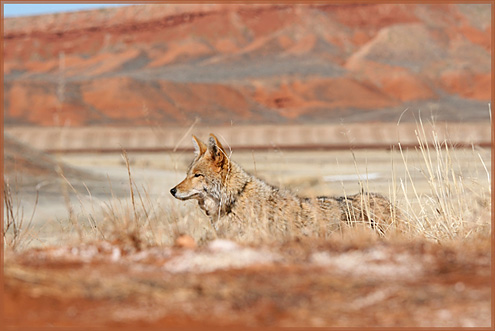 photo taken March 2013
So, if you haven't already read Hyperbole and a Half's absolutely brilliant write-up about severe depression, go forth and read. I'll wait.
How 'bout that, huh?
I was talking to Kevin about the post (we're both fans, and have both had our own bouts with depression) and as I was talking, I realized that before I had my particular breakdown, two people had said something to me—two people, one of whom I don't know, one of whom said one word—and those two people had a profound impact on my experience with depression.
One was good, one was bad.
The first—the good one—was my doctor. When I'd gone in for my checkup after my divorce, when I was getting all the medical stuff done fast before I went off my ex-husband's insurance, she asked me if I needed antidepressants.
I told her no, that I was fine, because it hadn't occurred to me that what was happening wasn't fine, if that makes any sense. Yes, I couldn't sleep and was sobbing a lot, but I was getting a divorce! I'd moved out! Random sobbing and epic insomnia are normal in that circumstance! It'd be weird if I wasn't miserable and irrational!
That's what I was thinking, anyhow. I don't know how coherently I expressed any of that, but she looked at me over the clipboard and said "Uh-huh. Well, call me if that changes, and we'll get you started on something right away. It's a lot easier to start it now than when you're at the bottom of a hole you can't get out of."
I can't say that this phrase saved my life, because I've never had suicidal tendencies (the closest I ever got was a profound hope that the atheists were right and I eventually wouldn't have to deal with this any more) but it sure as hell saved me a lot of time and grief.
It normalized everything. It made it a medical problem. It still took me awhile to figure out that a lot of things were probably linked to depression (insomnia, say!) but when I finally broke, at some point what I thought was "Oh, hey! I'm at the bottom of that hole she warned me about! I will call my doctor. She will fix it."
(And may Ganesh give her every blessing known to nurse practitioners, because she handled it like a pro. "Oh, no! Okay…okay…yes, that'd be anxiety." (I believe I said "Oh! Is that what that is? Neat!" because even in a hole, I am still fundamentally me.) "Now where are you? Let's find the nearest pharmacy, and I'll call in what I can over state lines. Come in as soon as you're back in NC.")
If she hadn't said that one sentence, I would have floundered around for ages, trying to do the brain chemistry equivalent of fixing a broken leg through the power of positive thinking. But she did say it and so when I finally realized what was going on—"Hey! This is a nervous breakdown!"—I didn't go through any of the stages of trying to figure out how you treat that or was it bad enough or whatever, because she had set the stage.
Thank god.
The other person was…well, less helpful. And I don't know her name and couldn't pick her out of a line-up, but I still feel a vague bitterness toward her, because when I was newly moved out of my house and away from my garden, I went to a local garden center to ask what I could grow in pots in the shade of a building–real, true, deep dry shade, in permanent shadow.
She curled her lip and said "Plastic."
I know I tried asking a few questions, and maybe she suggested ivy or something, but it ended quickly and she walked off with the you-are-wasting-my-time air. And I, in innocent despair, believed her and went home and didn't garden again until I moved in with Kevin.
I know perfectly well WHY I believed her—I was depressed and getting a divorce and leaving one of the cats with him and it made total sense that of course something else I loved was going to be taken from me, because that was just how life was going to be. But I do wish I'd cracked a book open, because, as it happens, she was incredibly wrong.
I mean, jeez, I had flowerpots, I could have done ferns. Impatiens. Sedges. I could have grown moss, if nothing else. If I didn't feel like watering, there are epimediums and cast iron plant and any number of things. Meehania will grow in a dark closet. (Fine, that's obscure, I can't blame her for missing that one. But I could have taken up growing mushrooms, for cryin' out loud!)
There's no knowing what road you don't walk down, of course, but that definitely slowed my recovery. Gardening is what I DO. I say "I'm a gardener," as often as I say "I'm an artist." Gardening is where I feel the most like myself. (Art is where I don't actually notice myself, if that makes any sense.) If I'd been digging around, I think I would have been much more resilient. (And by "resilient" I may mean "would have put grow-lights all over the living room and been living in a jungle" because if that had occurred to me, I expect I would have done it in a heartbeat.)
Plus there's that one soil bacteria that gives your serotonin levels a boost, which is not to be sneezed at when one is fighting chemical wars inside one's skull.
So I don't know. Life is better now and both these things have largely faded, but Hyperbole reminded me. Much like single pieces of corn.
(Mind you, at the time I found duck decoys pretty damn hysterical…)
Originally published at Tea with the Squash God. You can comment here or there.
http://www.dailycoyote.net/index.php/?p=4395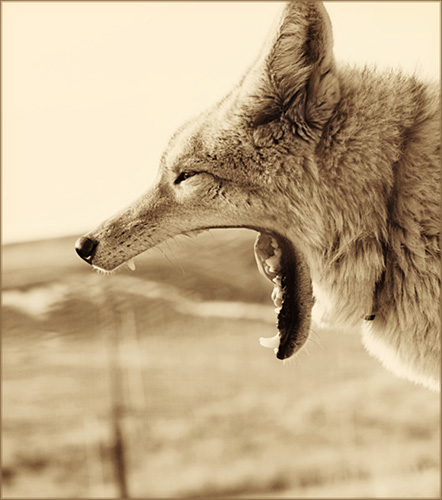 photo taken March 2013
http://www.dailycoyote.net/index.php/?p=4393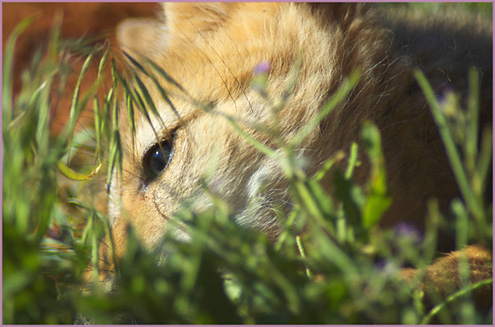 photo taken May 2007
Not dead, just very busy!
I am running around like a chicken with my head cut off, trying to write a book, edit another book, do art for an anthology, prep for two cons and one gallery show, and get mulch down before the Japanese stiltgrass Eats The World. (Nasty weed. Nasty, nasty weed.) And also I just made major progress on the Patio That Shall Not Be Named, which will soon be ready for a layer of gravel. Woo!
In lieu of anything clever, have a painting.
Saint of Bulls, mixed media on board, 8 x 12. My scanner hates blue, he's actually more turquoise and has stronger contrasts, but eh, what can you do?
He's going to Anthrocon, and I actually kinda hope he doesn't sell so that I can use him in the gallery show, which is the great trap of shows—"AUGGH! I love money! But I need to fill this wall! But money! AUAUUUGH!"—and then when you say "But ALL MY ART SOLD! What will I doooooo!?" you get no sympathy from anyone, except occasionally other artists.
Ahem.
Now I have to go mail things and maybe get some gravel. I will be sane again after Anthrocon. For a value of sane.
Originally published at Tea with the Squash God. You can comment here or there.
http://www.dailycoyote.net/index.php/?p=4391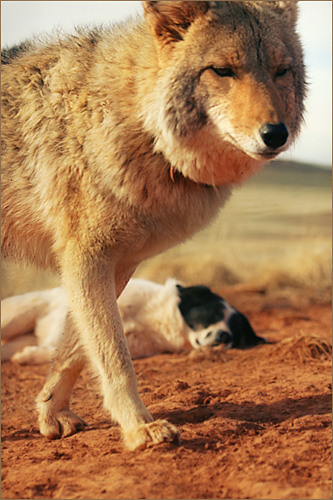 photo taken March 2013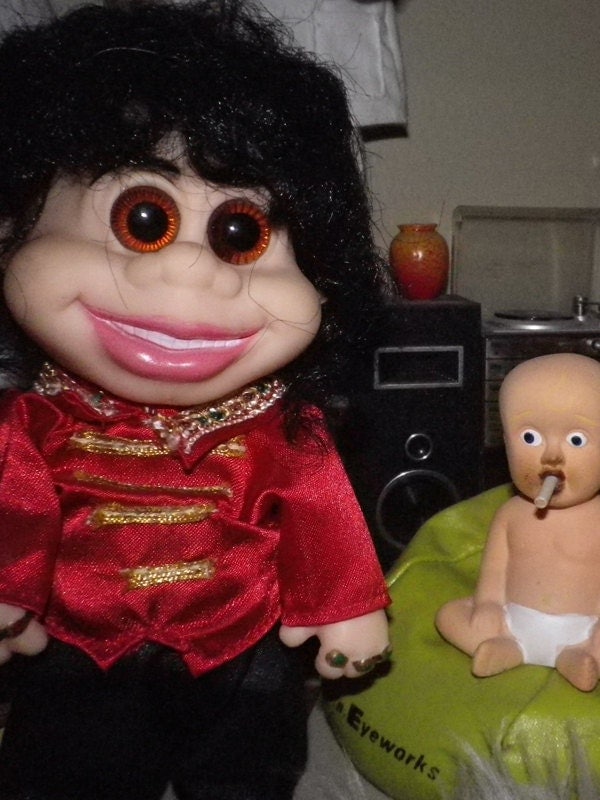 As seen on
Boing Boing
.
It's you on the right!